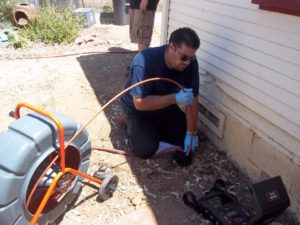 Brian Salinas, Owner and Operator of Xtreme Drainworks, has been in the drain cleaning industry for over 18 years now and has been growing his knowledge and skills right here in San Diego County. Brian is an expert in drain cleaning and also enjoys going out to do second opinion calls, so if another company has told you that your drain can't be cleared due to heavy buildup or that your line is broken give us a call for a second opinion. We provide drain cleaning services only and we are not plumbers… we do not do any kind of plumbing repairs or installation of drain pipes so rest assured that when we go out to a service call for you we are there to clear your drain and not to sell you an unnecessary repair.
We know that our clients are the base of our company and without them we would not be here, so we treat every single client and property the way that we like to be treated. We know how hard you work to have the nice home or business that you own and that's why we take pride in maintaining a clean working environment while performing services for you. We will care for your property as if it where our own, we will set our machines on a mat, we will remove any objects that may be damaged if work is performed close by, once the work is performed we will put everything back the way it was and we will clean up after our self's, oh and we will NOT use your cleaning products to clean up after our self's.
We are highly knowledgeable in the drain cleaning industry but even with all the training and knowledge we might encounter drain lines that are heavily corroded or simply broken underground due to age or faulty plumbing, In these cases we will refer a plumber in your area that we work with or you can call a plumber that you trust to perform any kind of repairs.
We also have jetting and cabling Maintenance programs that we monitor for you, so if you have a reoccurring problems with a drain or sewer line at your home or business we will set up a schedule to come out periodically and clean your drain(s) before they clog again. Maintenance programs are set up according to each client's needs so give us a call for a free no obligation quote. And we will beat any written estimate guaranteed, 858-583-1798
Hablamos Español!
Xtreme Drainworks es una empresa especializada en limpieza de drenajes nuestro enfoque es solo destapar drenajes y mantener nuestros precios lo mas bajos posible para nuestros clientes. Nosotros no somos plomeros ni cargamos un camion lleno de partes de plomeria innecesarios los cuales solo terminan subiendo sus precios al consumidor por sus gastos generales. Nuestros vehiculos estan equipados con todo lo necesario para destapar cualquier problema de drenaje.
Ofrecemos servicios las 24 horas del dia los 7 dias de la semana y tenemos los precios mas accesibles de San Diego.
Brian Salinas; Dueño/Operador de Xtreme Drainworks a dedicado mas de 18 años en esta industria, esta altamente capacitado para resolver cualquier problema de drenaje, su carrera y entrenamiento han sido aqui mismo en San Diego.
Brian personalmente puede ir a dar segundas opiniones de drenajes problematicos ya sea Residencial, Comercial, Industrial o de Restaurantes, asi que si otra compañia le a dicho que no pueden destapar su drenaje porque tiene mucha acumulacion de materiales o si le dijeron que su pipa esta quebrada llamenos.